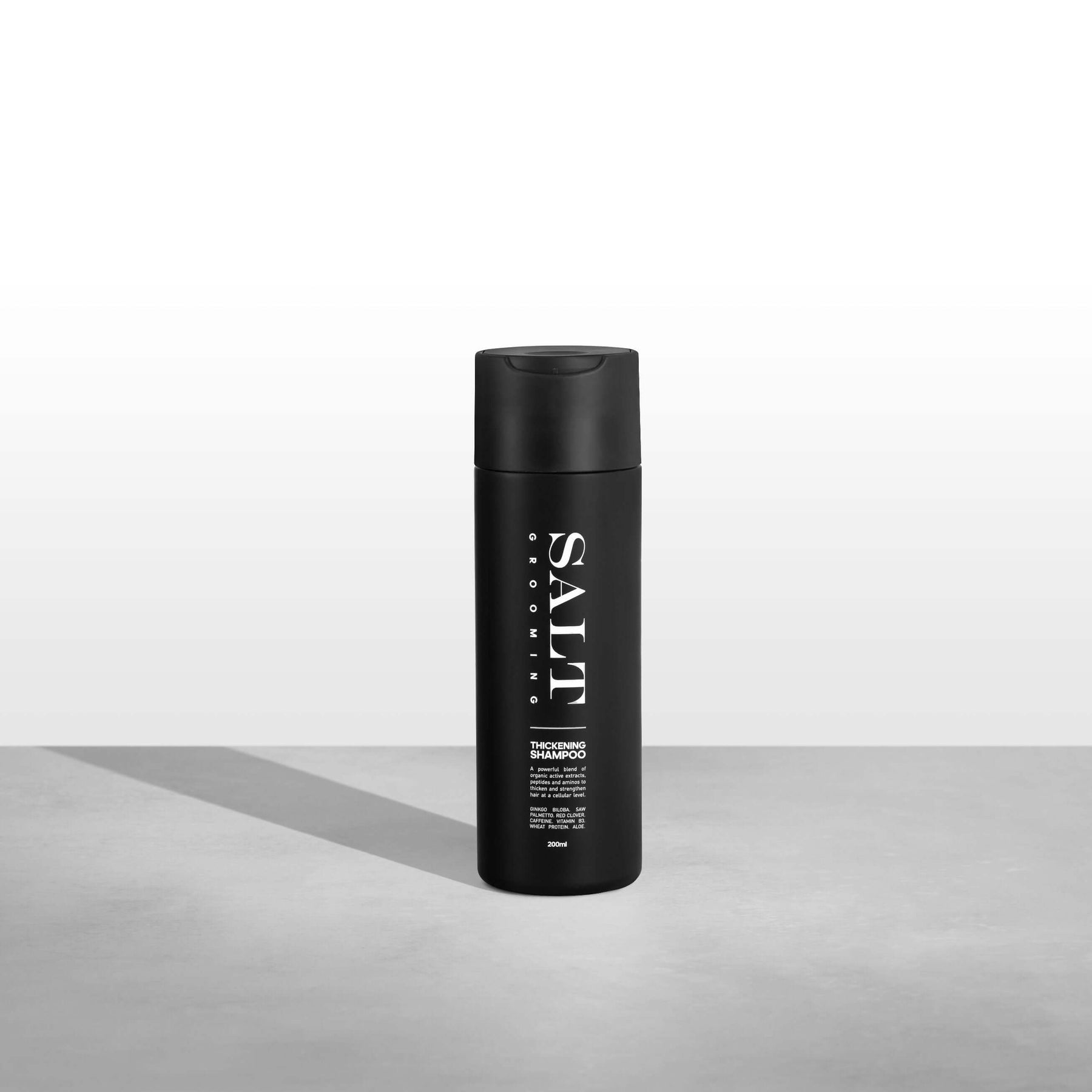 Thickening Shampoo
Our most advanced formula yet.
A powerful blend of organic actives, peptides, and aminos to thicken and strengthen hair at a cellular level. Contains clinically proven ingredients which prevent male pattern hair loss.
Thicker, fuller looking hair from first wash

Enriches hair and scalp with nutrients and strengthening proteins

Blocks DHT and 5-alpha reductase enzymes (responsible for MPB)

Gently but thoroughly cleanses excess oils and product

Finished with an invigorating wild mint fragrance

Suitable all hair types and daily use
Our vision of creating an essential collection of market-leading men's haircare and styling products continues with our most advanced formula yet.
 
A complex and powerful mixture of some of the world's finest and most scarce cosmetic ingredients combine to create a shampoo that visibly thickens hair from the first wash.
 
Packed full of clinically proven ingredients like Saw Palmetto, Ginkgo Biloba, and Red Clover Leaf, it actively prevents male pattern hair loss by blocking the production of DHT and 5-alpha reductase enzymes - the hormone and enzymes responsible for hair loss - and boosting bloodflow to the scalp.

Caffeine and Vitamin B3 are added stimulate healthy hair regrowth and increase fullness, whilst Wheat Protein and Aloe Leaf complete the formulation by providing antioxidant strengthening properties and imparting a smooth and silky texture.
 
Gentle cleansing agents are added to effectively strip out styling products left in the hair and excess oils, without and drying it out.
 
Suitable for all hair types and daily use.


Ginkgo Biloba. An ancient Chinese botanical with powerful antioxidant properties that stimulate healthy hair regrowth by improving blood flow and circulation in the scalp.
 
Saw Palmetto. A botanical extract with antiandrogenic properties, blocking the production of DHT - the hormone responsible for male pattern hair loss.
 
Red Clover Leaf. A rare bioactive that inhibits 5-alpha reductase enzymes - the other key contributor to hair loss.
 
Caffeine. A world-renowned stimulant. Caffeine is well-absorbed by hair follicles where it counter-acts the balding-effects of testosterone via enzyme interactions.
 
Vitamin B3. An essential nutrient acid proven to increase hair fullness when applied to the scalp.
 
Wheat Protein. A potent collection of antioxidant amino acids that help reduce oxidative stress damage to the hair and scalp whilst imparting a silky texture.
 
Aloe Leaf. Aloe Leaf's active component 'aloenin' soothes and regenerates skin cells on the scalp whilst conditioning and repairing hair.


Saturate hair with warm water, apply a small amount into your palm, then massage into your hair and scalp until it lathers. Leave in hair for 1 minute to let the active extracts fully absorb, then rinse. Suitable for daily use. Use in conjunction with Salt Grooming Thickening Conditioner for optimum results.